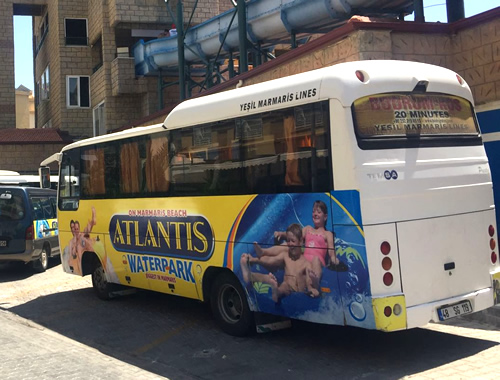 Atlantis Marmaris Water Park Free Shuttle Service
You can book your free transportation for any day. We need your full name ( same name stated on your online ticket ), hotel name, room number, number of people, time of the pick up. Please provide this information at least 1 day in advance for us to arrange your free shuttle service.
Atlantis Marmaris Water Park offers free shuttle service for its guests for bringing to the park and taking them back to their hotels. Our free transportation service includes the transfers from all the hotels in Icmeler, Marmaris and Armutalan.
Free shuttle service for picking up guests from the hotels begins at 9.30 in the morning. Drop back service to the hotels begins at 3.00pm – 5:00pm from the water park gate
We provide any kind of transportation for any number of guests even if you are a family of 2 or more than 20. We have cars, minibuses, midibuses and buses for our guests everyday.
Please call our telephone lines to make reservations for free shuttle service one day in advance from the following numbers
When making the bookings for the free transportation, please provide us detailed pick up points with the hotel name, room number, your name & surname, number of guests.
From Marmaris Hotels to Marmaris Waterpark
09:30 AM
10:00 AM
10:45 AM
11:30 AM
From Icmeler Hotels to Marmaris Waterpark
09:15 AM
10:45 AM
11:30 AM
From Marmaris Waterpark to Marmaris Hotels
03:30 PM
04:30 PM
05:00 PM
From Marmaris Waterpark to Icmeler Hotels
03:30 PM
04:30 AM
Tel: +90 252 413 0308
GSM: +90 530 568 5485
E-mail: shuttle@marmariswaterpark.com