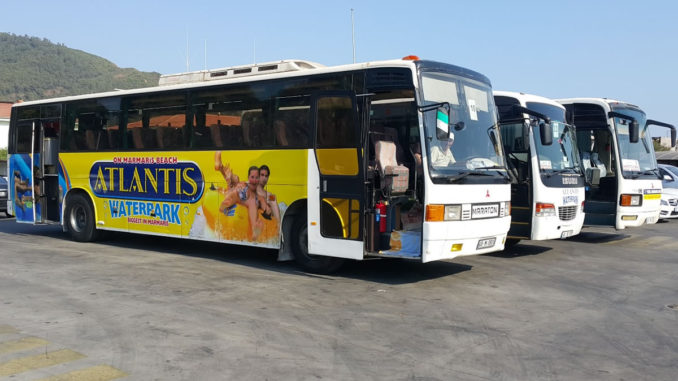 HOW TO GET TO ATLANTIS MARMARIS WATERPARK
FREE TRANSPORTATION
Getting to Atlantis Marmaris Waterpark is very easy!!! We provide free shuttle service for our guests from the hotels and dropping back to their hotels. All you have to do is to call our telephone lines to book one day in advance. ( +90 252 413 03 08 – +90 530 568 54 85 ) Please click here for more detailed information.
SELF-TRANSPORTATION
For our guests who wish to come to Atlantis Marmaris Waterpark with self-transportation: Atlantis Marmaris Waterpark is located in Marmaris at the seafront on Marmaris Long Beach. It's centrally located and easily accessible from
* Armutalan and Icmeler area with public transport.
* In Marmaris region the public transportationis called "Dolmush" which is a minibus. The dolmuses in Marmaris are colour-coded
* From the Armutalan region: Armutalan – Marmaris minibuses are blue. ( 3.25 TL per person )
* From Marmaris & Siteler region: Marmaris intra-town minibuses are green ( 3.25 TL per person )
* From Icmeler region: Marmaris – Icmeler minibuses are orange ( 3.25 TL per person )
* From Beldibi to Marmaris ( 3.25 TL per person )
* From Adaagzi to Marmaris ( 3.25 TL per person )
There are bus stops along the route, as of 2002 the minibuses should stop only at these assigned stops. Yet most minibus drivers follow the old system, which is get on anywhere and get off anywhere: all you do is flag down a dolmus as you see it approaching. Once you get on the minibus, please tell the driver that you wish to go to Atlantis Marmaris Waterpark. You will stop on the main street just opposite of the park. What you have to do is just to walk down to the beachfront for 2 minutes to reach to our entrance.
Taxis: Taxis are recognized by their yellow colour. The fare shown on the meter reads according to the distance travelled.
Tel : +90 252 413 03 08
Mobil Telefon : +90 530 568 54 85
Elektronik Posta : shuttle@marmariswaterpark.com