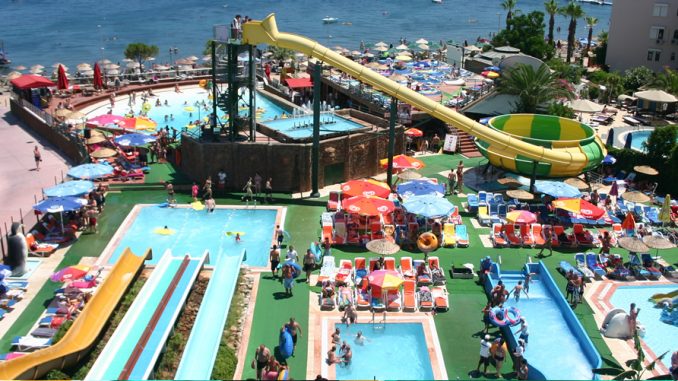 Atlantis Marmaris Water Park Rules and Regulations
Atlantis Marmaris Water Park Rules and Regulations
Guests must follow all instructions during their visit to the waterpark, both written and instructions given by the lifeguards. Management will not accept any responsibility for any accident due to the misuse of the facilities and/or ignorance of any instruction.
When you move from one attraction to another, note that the water depth may be different and that the attraction should be used in a different way. Read the sign at every waterpark ride obey its rules and experience-level guidelines.
If you can not swim, use of the slides and swimming in the pool are forbidden. Adults who are not able to swim should use life jackets. Children who are not able to swim should use arm bands/life jackets. Use only certified life vests.
Children must be supervised at all times. Children must not be left unattended in or around the pool area. One adult may be responsible for up to 2 children. Kids under 120 cm tall and under 8 years old can not use slides. Use only certified life vests.
Children under the age of 12 must be accompanied by a responsible adult.
Be aware of the slippery and wet surfaces in the water park.
Please do not bring any glassware or drinks to the waterpark. Food and drink can be purchased inside the park. Food and drink from outside is not allowed to be brought in.
Swimsuits must be worn on the slides at all times. All other clothing is forbidden.
Do not dive into any pools.
Please do not run. No pushing, dunking, shoulder riding or other inappropriate behavior allowed in facility.
Please use toilet and shower facilities before entering the pool and using the slides.
All jewellery, watches, eyeglasses, sunglasses must be removed before sliding.
Lifeguard has the authority to restrict riders when unsafe /uncooperative behavior is exhibited.
In case of emergency : please contact a member of staff at the nearest place available to you for the alarm to be raised. Call 112 for medical emergency situations.
Do not swim or slide while you are chewing gum or eating. It is forbidden to take any children toys on the slides and in the pools.
Lockers and safe boxes are provided by the park. Management will not accept any responsibility for our guests' personal belongings.
Pets are not allowed inside the park.
Objects that may cause distraction or danger to other guest will not be allowed .If guests are found to have dangerous objects such as knives, guns, etc… such guests together with their belongings will be removed from the park immediately and items will be confiscated at the managements discretion.
It is unsafe and prohibited to go on slides under the influence of alcohol. No smoking in the restricted areas.
Any time thunder/lightning are detected, either through a detection system or a manual sighting, the pool and associated decks will be cleared.
Any person suffering from heart condition or other serious illnesses and pregnant ladies are not allowed to slide. No person having an obvious communicable disease, skin eruption, cut, sore or lesion, eye, ear, nose, or throat infection, is permitted to use any public swimming pool and slides.
You are responsible of your own health condition. Never use any slide if you are thinking those activities are risky for you. Do not spend too long time under the sun. It may be dangerous for your health. Do not get very tired.
Ones who have physical disabilities should contact the Water Park Management.
In case of fire go to the assembly point and call 110.
Atlantis Marmaris Water Park Safety
At Atlantis Marmaris Water Park guest safety is our number one priority. The rides and attractions are designed to be enjoyed by people of all ages and abilities. Height restrictions have been placed on all rides and guests must adhere to safety signage throughout the park. A team of highly trained lifeguards watch over guests and provide safety instructions and directions to ensure a safe and fun place for everyone to enjoy.
Lifeguards cannot watch everyone all the time, so parents must actively supervise their children. For safety reasons, pregnant women, guests with certain pre-existing health issues, guests with casts, footwear, eyewear or any any hard or sharp objects are not permitted on any slides
Important factors to consider when visiting Atlantis Marmaris Water Park for the first time:
Read all signs especially those at the beginning of the waterslides as most waterslides for Health & Safety reasons are not suitable for guests with physical disabilities, impairments and those who are pregnant
Identify deep and shallow water areas
Walk with care using handrails where provided
Be aware diving is not permitted in any pool
Be aware of the lifeguard's locations and to follow the lifeguard's instructions, it is for your own safety